As you'll probably have guessed from earlier blog postings, I have a real thing for the big Star Wars sets. In particular, I'm a sucker for the huge Ultimate Collector Series ships such as
Set 10030 Imperial Star Destroyer
. These rarely fail to provoke a reaction, regardless of whether the person is a LEGO fan or not.
It's become increasingly clear to me, however, that accomplished building at the other end of the scale may be in some ways equally as challenging as building huge ships. I'm talking about Mini scale models, which attempt to capture the essence of an iconic design using just a few pieces. Clearly, compromises have to be made on account of the scale and small piece count, and it's here that the designers' skill really shines through, coming up with ingenious ways of using common and not-so-common LEGO elements in order to overcome design challenges.
The LEGO company have produced a surprisingly large number of Mini scale Star Wars models over the years. According to Brickset, at least
35 different Mini scale Star Wars models
have been produced by the LEGO company since 2003, with further models appearing as part of Dorling Kindersley's Brickmaster book series. Some of these models are, IMHO, superbly designed, others are pretty average, but all approximate the subject material fairly well. Reverse engineering some of these sets is a great way to learn some ingenious building techniques, and these small models tend to be splendidly swooshable to boot !
Some of my personal highlights ? Well, beauty is certainly in the eye of the beholder, and bizarrely, two of my favourites were seemingly never actually released..... For reasons best known to themselves, LEGO made instructions available online for
Set 8029 Mini Snowspeeder
and
Set 6968 Mini Wookiee Attack
without actually producing the sets. Having been made aware of the existence of the building instructions, and liking what I saw, I downloaded them, sourced the necessary parts and built the models (pics below; click to enlarge).
Set 8029 Mini Snowspeeder
Set 6968 Mini Wookiee Attack
I particularly like the Snowspeeder - chunky and irresistibly swooshable. Why it was never put into production beats me as it's a gem. The Wookiee Attack model (it's actually a Corporate Alliance Tank Droid I believe) is perhaps less faithful to the source material, but nevertheless appeals due to it's bug-eyed cuteness and neat colour scheme (it's the dark blue and sand blue that does it for me I guess - both relatively unusual colours, particularly the latter).
Other 'official' Minis that I'm quite partial to include
Set 6967 ARC Fighter
and
Set 4489 Mini AT-AT
. The Mini ARC-170 is I think a pretty good likeness given its size and it's another model which I can't resist swooshing about. You can read my review of the Mini AT-AT on
Eurobricks
; this one is admittedly some way short of being a faithful reproduction of the subject material, but it's another which scores by way of a cuteness factor I reckon.... I'm actually not entirely convinced that the
new Mini AT-AT
released at the end of last year improves on the 2003 original a great deal, although others will I'm sure disagree. I'd certainly be interested to know which Minis readers rate the highest - feel free to leave a comment and share your thoughts.
Set 6967 Mini ARC Fighter
Set 4489 Mini AT-AT
While I'm on the subject of Minis, I really must mention some of the superb Mini
MOC
s out there. There are a number of accomplished designers of original Mini creations online, with perhaps none more impressive than
Chris Deck
(AKA
Legostein
). This guy is prolific, churning out literally hundreds of cracking little models. I was drawn in by some of his superb LEGO Star Wars Minis, but he's also created some excellent non-Star Wars models including ships from universes such as Battlestar Galactica and Star Trek, and also some very clever architectural designs. You can see a selection of my favourites below (as ever, click to enlarge) :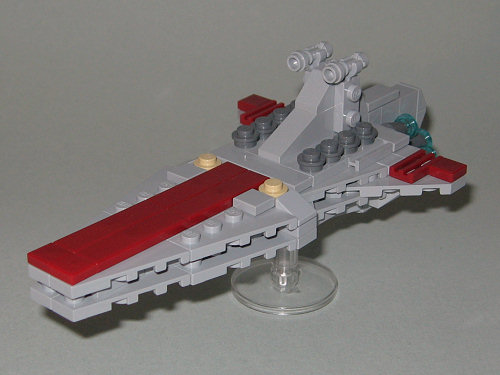 Mini Venator (Legostein)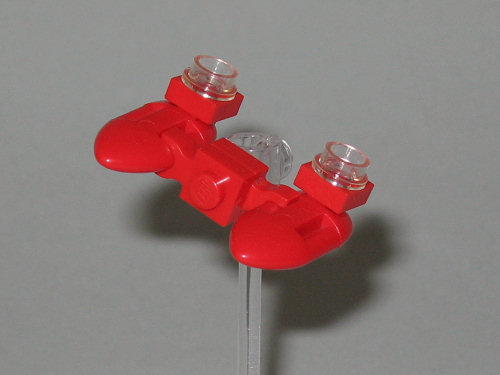 Mini Cloud Car (Legostein)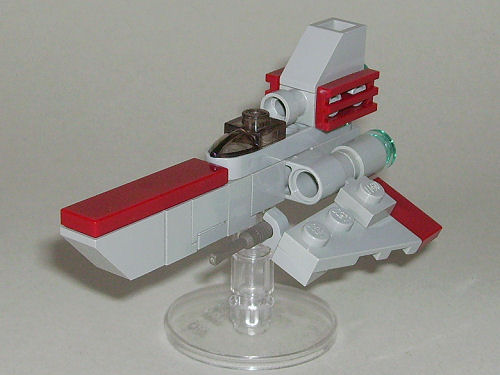 Colonial Viper MK II (Legostein)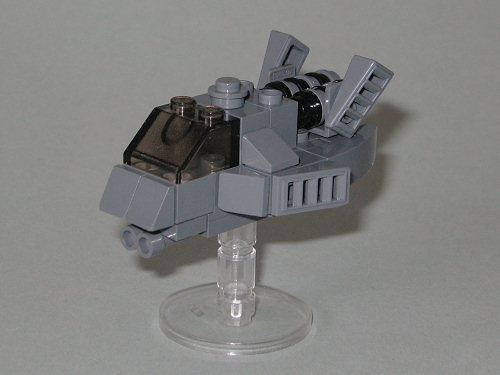 Colonial Raptor (Legostein)
I think he has a real talent for capturing the essence of the source material, sometimes with literally just a few pieces (the Mini Cloud Car being a perfect example). To see more, visit Chris's
website
or check out his
Flickr stream
.
And a timely piece of news just to finish - I'm hearing that UK LEGO fans will get the chance to pick up
Set 30051 Mini X-wing Fighter
in an up-coming LEGO promotion being run by The Sun and the News of the World newspapers. The promotion apparently starts on Saturday 14th May 2011, so keep your eyes peeled.....