Next up in my list of favourites is set 391 which is the
1926 Renault
released in 1975.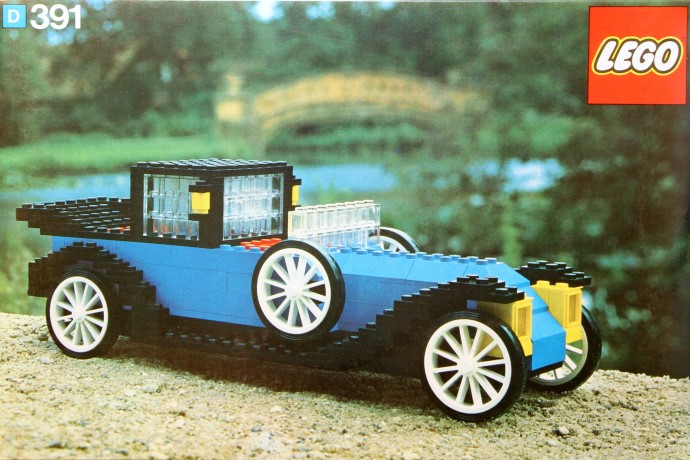 This is another set which I had as a kid, and at the time it seemed almost impossibly elegant and detailed when compared with other LEGO vehicles in my possession which were generally small, simple affairs made up of around 20 pieces. This set contains
237 pieces
, including some amazing large white spoked wheels which have only ever appeared in one other set - the
1909 Rolls Royce
set, in case you're interested. All in all, the LEGO company released 3 vintage cars in 1975 and 1976 under the 'Hobby Sets' moniker, namely the Renault, the Rolls Royce and Set 390
1913 Cadillac
, all of which shared many design cues and were in my opinion streets ahead of the kind of vehicles previously released in terms of detail and authenticity - clearly the shape of things to come.
I couldn't resist building the Renault again recently, and you can see pictures I took of the completed set below (click to enlarge). It was lovingly constructed from the original pieces and building instructions, although the box has unfortunately disappeared into the mists of time. That's what eBay is for, however, and this set has such sentimental value for me that I later ended up buying another one complete with box....
I also subsequently managed to pick up a boxed Rolls Royce and Cadillac from eBay - if you're patient and don't overbid, they can be had for surprisingly little money given their rarity. You can see pics below.
Set 395 1905 Rolls Royce
Set 390 1913 Cadillac
Three lovely sets, but the Renault was the one I owned when I was a boy and it therefore beats the Rolls and Cadillac by a nose to make it into my favourites list.